Over the last two years, the e-commerce industry has grown dramatically as online shopping platforms helped small and large retailers in dealing with pandemic-related challenges.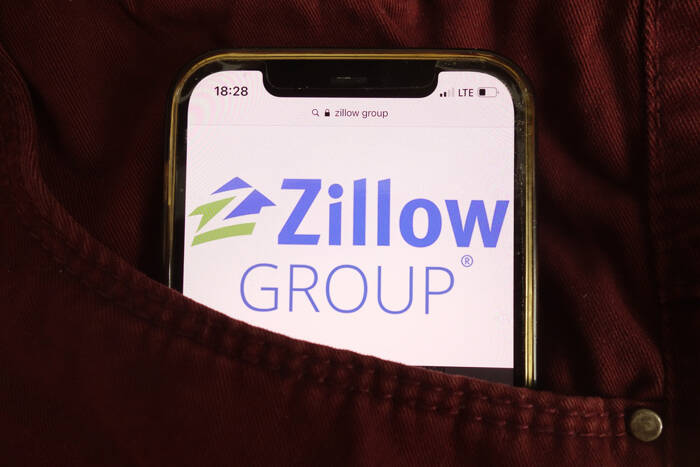 The spread of Covid-19 fueled the growth of the industry as people around the world had to rely on online platforms to order essential items in the face of mobility restrictions and social distancing measures introduced to curb the spread of the virus. Many recent studies show that online shopping slowed in 2021 after an unprecedented increase during the lockdown phase in 2020, and e-commerce spending is predicted to stabilize in 2022. This does not, however, imply that the industry will grow at unappealing rates in the years ahead.
In 2020, a record number of customers tried online shopping for the first time, and they are anticipated to continue to be in the e-commerce ecosystem in the future due to the ease and convenience of online shopping. Many companies are capitalizing on this trend by embracing digital platforms to boost their sales. E-commerce capabilities enable direct interaction with end-users providing real-time customer insights that allow brands to make strategic decisions more accurately and faster. A large number of data such as website traffic or trending product searches can assist a company in responding directly to a customer's demands, thereby increasing customer retention and brand value. According to eMarketer, global retail e-commerce sales reached $4.9 trillion in 2021, and online retail sales will hit $5.5 trillion this year, accounting for more than a fifth of total retail sales. Exhibit 1: Worldwide Retail E-commerce Sales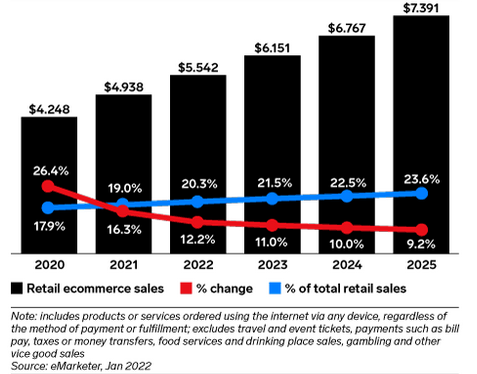 The increased usage of smartphones, laptops, and tablets to access e-commerce portals around the world is propelling the sector forward. Retailers and customers are increasingly using mobile shopping apps, which is a trend to reckon with. According to Statista, in 2022, smartphone retail e-commerce sales will pass $432 billion, and the growing influencer community on popular social media platforms will further fuel the adoption of e-commerce. Given this promising outlook for the industry, it would be reasonable to expect e-commerce category leaders to deliver handsome investment returns in the future. Below are 4 companies that are on the right track to enjoying long-lasting competitive advantages that could help them earn economic profits in the future.
Cars.com Inc (NYSE: CARS)
Cars.com is a leading automotive classified website in the United States, offering a comprehensive range of digital solutions that connect automobile buyers and sellers. The company provides services to both buyers and dealers. Its data-driven insight and digital tools help buyers in making informed decisions and dealers gain market share. In addition to
Cars.com
, the company's brands include Dealer Inspire, FUEL, DealerRater, automotive fintech platform CreditIQ, and Accu-Trade, a vehicle valuation and appraisal technology. The company's main source of revenue is its used and new vehicle marketplace. In 2021, the company reported revenue of $623.7 million, a 13% increase year-over-year, driven by continued industry adoption of the company's digital solutions. On a year-over-year basis, average monthly unique visitors increased 5% to 25.1 million. The company has continued to generate significant free cash flow, which it intends to use to acquire technology, generate additional revenue streams, and expand the total addressable market. The favorable outlook for the used car market this year suggests Cars.com is well-positioned to grow this year, and in the long run, the company is likely to emerge as a big winner in the ongoing digital transformation of the vehicle resale market.
Zillow Group, Inc. (NASDAQ: ZG)
Zillow Group, Inc. is an online real estate marketplace based in the United States. The Internet, media, and technology (IMT) division of
Zillow
generated $483 million in sales in Q4 2021, up 14% from the previous quarter, and $137 million in profitability before taxes. Zillow has also introduced new services, including mortgages and title insurance, to provide a one-stop-shopping experience for homebuyers. The company recently exited its struggling iBuying business and the company's balance sheet appears to be on a stronger footing after making these changes to its business portfolio. With over 198 million monthly unique users, Zillow is the most popular online real estate database in the United States. The company has reported positive revenue growth in each of the last 10 years, and a continuation of this trend can be expected as the company focuses more on improving its brand value and services offered.
PlantX Life Inc. (OTCQB: PLTXF / CSE: VEGA.CN)
PlantX is a Canadian e-commerce platform known for being the digital face of all things plant-based. The company, which has over 5,000 vegan products, meal delivery services, and indoor plant delivery services, is quickly becoming a go-to plant-based e-commerce brand. PlantX reported a strong third-quarter 2022 performance, with revenue exceeding C$2.7 million, representing a 201% increase year-over-year. Acquisitions and partnerships are two of PlantX's key growth strategies. The company recently announced a partnership with BESTIES Vegan Paradise ("BESTIES") to redesign and rebrand XMarket brick-and-mortar stores in Venice and Hillcrest, California, and BESTIES is also a pioneer in the plant-based industry, having won the "Best Grocery Store" award in the VegNews Veggie Awards for the past two years. PlantX is focused on onboarding innovative plant-based product manufacturers onto its online platform, and the BESTIES partnership is one such measure that could unlock growth opportunities for the company. PlantX are becoming a leading player in the growing plant-based industry and as such is likely to benefit from large growth in their consumer base. Analysts are
suggesting
PlantX may be experiencing a major recovery and as such, now may be the perfect time to get in.
Walgreens Boots Alliance, Inc. (NASDAQ: WBA)
Walgreens
is an American pharmacy-led health and beauty retailer that enjoys the highest share of the e-pharmacy market in the United States, and the company generated revenue of $33.76 billion generated in the second quarter of fiscal 2022. Although investors were concerned about slowing vaccine rates and increased investments in healthcare initiatives, the company benefited from customers stocking up on other health and wellness items, as well as sales of over-the-counter medications. With the healthcare industry laser-focused on digitalization, Walgreens seems to be well-positioned to grow by capitalizing on its online presence.
Conclusion
The e-commerce industry was once thought to be limited only to tech companies, but today, every major business industry from education to food products and healthcare is embracing this booming sector. With many companies wanting to sell their products and services online, the enthusiasm surrounding the e-commerce sector is likely to remain strong for many years to come. The companies introduced in this analysis seem to be making steady progress toward making a name for themselves as category leaders.