Buy Ingredients
Ingredients
Directions
Top Tips
Quick and Easy Pasta Salad
Need a quick and easy dish for an Easter potluck? We have you covered! This pasta salad features the veggies of the season with asparagus, freshly diced tomatoes, and carrots, but feel free to add your spin with what you have on hand with this delicious recipe. Want to add some extra protein? Try using chickpea pasta for some additional fiber, flavor, and macros.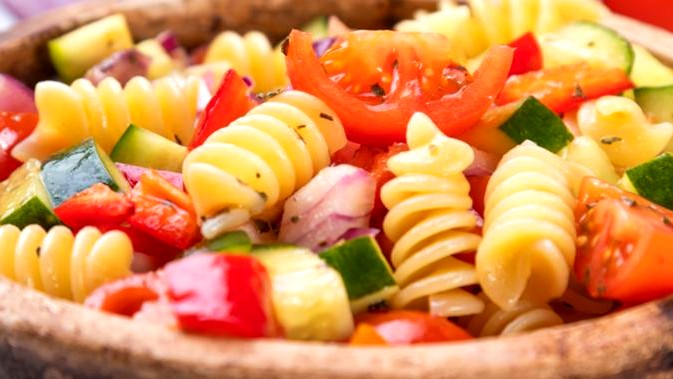 Quick and Easy Pasta Salad
Category:

Lunch

Prep Time:

20 minutes

Servings:

4
Here's what you need:
Main Ingredients
2 cups cooked pasta (you can use bowtie, rotini or elbow macaroni
1/2 lb diced asparagus
3 diced carrots
1/4 cup of diced onion
3 diced tomatoes
3 tbsp freshly chopped parsley
1 tbsp olive oil
2 tbsp balsamic vinegar
1 1/2tsp dijon mustard
1/2 tsp dried basil
Salt and pepper to taste
1 diced red or yellow bell pepper
Directions
Blanch your asparagus, carrots, and bell pepper separately in water until just cooked. Drain and combine your veggies together in a large bowl with your tomatoes, pasta, and parsley.

In a small bowl, whisk together your olive oil, vinegar, mustard, basil, salt, and pepper for your dressing. Once you're satisfied with the taste, pour the dressings over your pasta and veggies, stirring well to coat.

Chill your pasta salad before serving, and enjoy!
Buy products in the recipe
Please choose options for all selected products:
Recipes You Also May Like