Buy Ingredients
Ingredients
Directions
Top Tips
Hello everyone, Sara here from PlantX. Where I am from, these treats are called Nanaimo Bars.
They are my absolute favorite. Unfortunately, traditional Nanaimo bars are not plant-based… So here I am making a plant-based version for us all to enjoy!
Around 168 calories each(11g fat, 16g carbohydrates, 4g protein)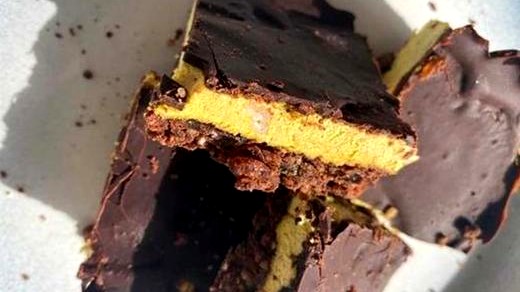 Sara's Nanaimo Bars
Category:

Dessert

Prep Time:

21 minutes
Here's what you need:
Main Ingredients
1.5 cups pitted dates (200g)
1/2 cup unsweetened shredded coconut (48g)
1 scoop unsweetened/unflavoured protein powder - I used pea protein (optional)
Just under 2 TBSP cocoa powder (25g)
1/2 cup walnuts
1 cup cashew (place in hot water prior so they become less firm)
3 TBSP coconut oil
1/4 cup coconut milk (use thicker part of the can)
1/4 cup maple syrup (we used sugar-free to bring the calories down)
1/4 turmeric (for coloring)
1 tsp vanilla extract
1/2 scoop vanilla protein powder (optional)
1.5 dark chocolate bars (150g)
1 tsp coconut oil
Directions
Blend all ingredients in a high-speed blender or food processor.Note: It may look quite dry but once you pat it down it should stick together. You can use molds like in the video and brush with coconut oil or line a tin with wax or parchment paper and press crust evenly throughout the base.
Place in the freezer while making the creamy middle.
Blend in a high-speed blender or food processor.Note: Spread this evenly onto crust then place into the freezer until hard.
Melt in the microwave or stove and evenly disperse it onto the frozen creamy layer, then place in freezer until chocolate hardens.
Once everything is solidified, cut or press out of the molds and enjoy!
If you love this recipe…
Buy products in the recipe
Please choose options for all selected products:
Recipes You Also May Like