Buy Ingredients
Ingredients
Directions
Top Tips
To create the famous Tiktok whipped coffee (aka dalgona coffee) vegan, all you will need is instant coffee, sugar, and plant-based milk! This delicious fluffy coffee foam can be used to make a latte, served over cold or warm milk, can be made with cinnamon, cardamom, or orange zest to make a flavored dalgona coffee. More interested in matcha? You can easily make this a Whipped Matcha by switching out the instant coffee with matcha powder!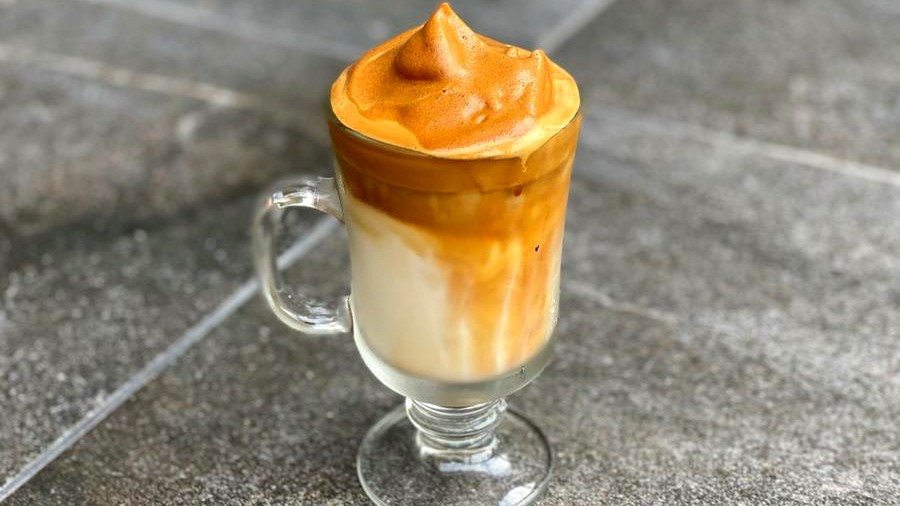 Vegan Dalgona Coffee
Category:

Beverages

Prep Time:

5 minutes

Servings:

1-2 Coffees

Calories:

146
Here's what you need:
Main Ingredients
2 Tbsp Instant Coffee
2 Tbsp granulated cane sugar or white sugar
2 Tbsp hot water
Unsweetened soy milk or oat milk
Ice Cubes
Directions
In a medium bowl, combine instant coffee, sugar, and water.
Using a hand mixer, mix until the ingredients begin to thicken and holds its shape. You can also do this with a milk frother which is a bit more portable and saves you time and cleanup.
Once you have a frothy, peaked golden foam, add some ice and milk to choice to a tall glass, and scoop the coffee foam on top.
You can top this with cocoa powder, cookie pieces, or chocolate drizzle, or just serve as is. Mix before drinking.
Serve and enjoy!
If you love this recipe…
Buy products in the recipe
Please choose options for all selected products:
Recipes You Also May Like